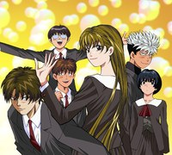 This is for character links and small amounts of information about characters in Cheeky Angel.
Main Character BiosEdit
Megumi AmatsukaEdit
Megumi Amatsuka is the main character and protagonist of the story.
She is a beautiful person, who has many admirers, and even an admirer club.
She holds a secret only her best friend knows... she is actually a he.
Megumi wished upon a magic book to become the man of man, but the spell reversed and turned him/her into a girl.
she tossed the book into the river in anger, and since then, has been trying to find the book.
Genzou SogaEdit
Genzou Soga is one of the main characters of the story.
He falls in love with Megumi
He is one of the friends of Megumi and follows Megumi everywhere.
Miki HanakainEdit
Miki Hanakain is the best Friend of Megumi Amatsuka.
She was there when Megumi was changed in a girl.
She hopes that Megumi remains a girl.
Hitomonji KobayashiEdit
Hitomonji Kobayashi is a mysterious person.
He is trained as a bushi by his grandfather.
Ichirou FujikiEdit
Ichirou Fujiki is the average guy of the group.
He also falls in love with Megumi.
Tasuke YasudaEdit
Tasuke Yasuda is a proud Otaku and pervert.
He stalks Megumi everywhere and hide in various unexpected places.
Keiko TanakaEdit
Keiko Tanaka hates Megumi, because people find that Megumi is more beautiful than her.
She tries to prove that she is more feminine than Megumi.
Yoshimi ShirasagiEdit
Yoshimi Shirasagi is Keiko´s friend and follows here around everywhere.
She finds everythong fantastic about Keiko.
Tsubasa AmatsukaEdit
Tsubasa Amatsuka is Megumi's mother. Her work requires her to travel around the world, so she's rarely home.
Megumi's FatherEdit
Megumi´s father act likes a pervert.
Yoriko is Megumi´s housemaid.
Minor Characters
Edit
Roku Kimura
Edit
Takao Gakusan
Edit
Yanagisawa
Edit
Sofu Kobayashi
Edit
Kyouichi Hanakain
Edit
Sakatsuki
Edit
Genzou's Former Girlfriend
Edit
Setsuka Soga
Edit
Yuusuke Yasuda
Edit